Andrew and Tara – Attitude is EVERYTHING!!
Back in June of 2015 Andrew and Tara got married in Pinetop, Arizona at the Lazy Oaks Resort.
It's a simple sentence…but it doesn't tell the whole story.  Their wedding proves without a doubt that your attitude will play the biggest part in determining the outcome of your wedding.
I arrived to set up a few hours before the ceremony was scheduled to start.  I met Teresa Johnson with Classic Events.  She was working as the day-of coordinator.  All the tables were set up beautifully…..
I began setting up….and the wind started picking up….a lot!  All of a sudden it was POURING rain!
Everything…and I mean everything was soaked! About 3-4″ of water began flooding the entire area. I had to stop setting up and throw cover over my speakers and everything else back in my van.  It rained for about an hour and a half.  I was by the ceremony and reception site with Teresa as well as Jay and Jess from Jay and Jess Photography.  Andrew and Tara were in other cabins at the resort getting ready.
All of us began discussing what we could do.  We ultimately decided that all of us were going to be around the next day so we could just put the wedding off a day and come back the next day and do a lunch reception.  We decided to present this idea to Tara.
The rain let up and we decided to make our way down to Tara's cabin.  As we walked I wasn't sure what Tara's attitude was going to be so I was a little apprehensive as we walked into the room.
We walked in and let Tara know about our great idea to have the wedding the next day when maybe the weather would be a little better.  Tara looked at us, smiled and said, "I'm getting married today.  I don't care if it's down at the ceremony site or here in this hotel room.  I don't care if we party down where we are supposed to, or in this hotel room…..we are getting married and having a party tonight!"
We looked outside and realized that it hadn't rained in a good 15 or 20 minutes so we said, "OK.  Let's do it and let's do it right now!"  As we walked back through the resort we began to let everyone know that they should start moving to the ceremony site.  I quickly grabbed my ceremony sound system and got it set up as best I could and about 10 minutes later we were ready to go.  The guests began wading their way to their seats….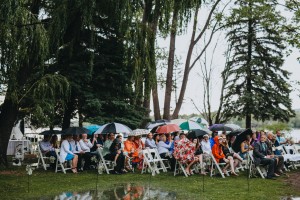 ….and Andrew and Tara got their wedding party lined up and started to head to the ceremony site…..
…Tara had some custom made lace wedges that she had planned to wear…..but she made her way down the aisle….her dad by her side….in a pair of cowboy boots.
Andrew and Tara became Mr and Mrs Trautman standing in the spot next to the lake where they had dreamed of getting married for months….
After the ceremony we moved right into cocktails and dinner.  As the guests moved over to the tables we realized that all of the table cloths were soaked…..so the guests pulled all the table cloths off and reset the table and centerpieces as best they could.
Before the wedding started everything that could go wrong went wrong.  Everything was soaked.  All the cute little touches….were "ruined".  Tara and Andrew didn't let one bit of it affect them.  They were going to get married and party on that day….and they were going to have a good time….no matter what.  And they did…..
Not another drop of rain fell that night and everyone danced all the way to midnight before we shut it down.
Brides and grooms….how are you going to react on your wedding day when something doesn't go exactly as planned….or when nothing goes exactly as planned?   Will you let it "ruin" your day?  Or will you think of Tara and say "I don't care what happens!  I'm getting married to the man I love and have a great party with my friends no matter what!"
Thank you Tara and Andrew for a wedding…and an attitude….that I will remember for a long long time.
---
---