Wedding Officiant Services
"Wow!  We think that you're going to make the reception so personal we'd love to have you as our officiant!"
DJ as Wedding Officiant – How it started.
When I first started my DJ business I read on some of the DJ forums that other DJ's were getting themselves ordained so that they could be a back-up just in case something happened to the officiant and the wedding was ready to start.  I thought that was a great idea so I became ordained through "Universal Ministries".
A number of years went by and I began getting training on how to be a great Master of Ceremonies and story-teller at my couples weddings.  How to chose the words that I use and how to give those words meaning and significance.  I was at a national DJ conference and I went to lunch with a DJ friend who lives in Michigan.  He has been through much of the same training as I have and he asked if I was offering officiating services.  I told them that I was ordained but only so I could be a back-up to the actual wedding officiant.
He looked at me and asked, "You've done all of this training on how to not only speak on a microphone, but on how to give those words meaning.  You preside over every other ceremony at the wedding from the Grand Entrance, to introducing the Father/Daughter dance, to telling the couples Love Story, to the cake cutting ceremony……so why aren't you using those same abilities to work as their wedding officiant?"
I had no good answer so when I got home I added it to my list of available services that I offer and began doing more research into what a truly great wedding officiant should be offering.
A couple months later I was meeting with a couple and after they decided to trust me with DJ'ing and MC'ing their reception. I asked them if they had someone to marry them.  They didn't.  They asked if that was something I could do.  I said that it was.  They got excited and said, "Wow!  We think that you're going to make the reception so personal we'd love to have you as our officiant!" I was honestly kind of shocked and almost wanted to ask, "Really?  You want your DJ to marry you?"  But I didn't, and actually I was honored and humbled that they would trust me with such an awesome task.
So a few months later Katherine and Jeff got married…..and I was their officiant.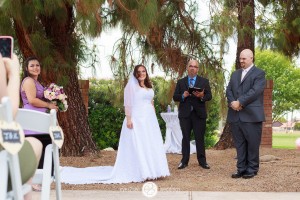 It was really special and fun to be trusted with so much of their day and Katherine's review always makes me smile:
"He made my wedding sound so magical with music but he gave the perfect ceremony!. As on Officiant: He was poised, well spoken, and knew how to make us feel comfortable standing in front of everyone. He knew how to run the ceremony and timed everything perfectly. During the rehearsal, he balanced fun with getting everyone to remember everything and know their timing. He was a great at working with the vendors to make sure everyone was on the same page at the same time."   Katherine and Jeff Erdmann – Married at Peoria Pines Golf Course Peoria, AZ
So that's the story about how my love of weddings and training lead me to offer officiating services.
It is a ton of fun working with couples to make their weddings completely unique to them.  I had a couple that is in to Crossfit like I am so I incorporated Crossfit into their wedding ceremony.  You can read about that HERE.
So how can I make your wedding ceremony personal and unique to the two of you and your wishes?
Give me a call or text at 602-748-8469 or drop me an email at david@davidhoytentertainment.com and let's start figuring that out!
---
---