"What Exactly Do You Do?"
This blog post, like most of my blog posts, was inspired by actual events.  In this case a question from a potential customer:
"What is your quote for a 4 hour wedding reception and what exactly do you do?"
This question is very common.  It it typically the first question that is asked.
It got me thinking about what "exactly" I do for the typical customer and the typical wedding long before the "4 hours":
First Visit:
I love to visit with my potential customers before they even sign a contract so that we can find out if I'm the DJ/MC for them, and they are the customer for me.
This visit typically takes place 9 months to a year and a half before the actual wedding date and it typically lasts an hour to an hour and half.
Once You've Decided To Hire Me:
Now the fun begins!!  First I will sign and scan your contract and email it to you along with other attachments like my planning forms and most requested songs for the different events at a wedding.  Since I am a full time DJ and MC I am available at almost any time to answer your phone calls, respond to your texts and emails, and happy to answer any questions you have regarding your wedding.  I am also happy to refer you to other vendors that I know and trust.
Planning Meeting:
A couple weeks before your wedding we will get together again and plan out your elegant, fun, and unique wedding.  This meeting takes typically 1 to 2 hours.  We will go over everything from the time your guests begin arriving, to the moment that the two of you make your exit.  We'll talk about the music you enjoy.  We'll talk about the different events that can take place at a wedding and decide which you'd like to do.  We'll talk about order in which you want to do every event.  I'll give you ideas on when to do each event so that it creates an entertaining flow to your reception.
We'll discuss those that are giving you toasts, your parents, and your relationship so that I can put together great introductions for all of the formalities that are going to take place.
Putting It All Together:
After the planning meeting I will take all of my notes and put together your unique "Entertainment Schedule".   I will email that schedule to you, and your other vendors like your photographer, caterer, venue contact, wedding planner and videographer.  I'll let everyone know that this schedule has been made with your input and that if they see anything in it that isn't going to work we should take care of it now, rather than waiting for the day of your wedding. The work we do beforehand plays a big role in your wedding day running smoothly.
Here are some links to actual Entertainment Schedules from past weddings:  Michael and Greta's Entertainment Schedule  —-  Bethany and Zack's Entertainment Schedule
After I've emailed the Entertainment Schedule I will then take the notes about the important people in your life and begin writing introductions for the following events:
Grand Entrance
First Dance
Toast Introductions
Father/Daughter Dance
Mother/Son Dance
I will then begin to assemble all of the music we talked about:
Seating music for before your ceremony
Seating of the family music
Bridal Party Entrance
Bride Entrance
Special music for during the ceremony
Recessional Music
Cocktail Hour
Dinner
Grand Entrance
First Dance
Mother/Son Song
Father/Daughter Song
Cake Cutting Song
Garter Pull Song
Garter Toss Song
Bouquet Toss Song
Other Music for other events
I will get all the songs loaded into a folder on my computer.  I will then copy those songs to my back up laptop, an external hard drive, a thumb drive that's on my key chain, my droid phone, and my iPad.  I don't think I can have too many back ups of the special music, for your special events, for your special day!!
Next comes the process of rehearsing your introductions a couple times a day.  I'll be thinking about how things are going to run and what potential issues there could be and how to handle them.  I think about how much fun it's going to be and how happy I am that I get to provide you, your friends and your family a great time at your wedding!
Your Wedding Day!
I do some final rehearsal on your introductions.  I print up copies of your Entertainment Schedule so I have them available for your other vendors just in case they didn't bring a copy with them.
I load my van with all the equipment I will need as well as backup equipment.
I drive to your venue and begin setting up.  I'm typically there about 2 hours before your ceremony.  I put speakers on tripods.  I put my main console on it's stand.  I run power and sound to all of the speakers and equipment.  I set up the lighting for the dance floor.  I set up up-lighting if you've chosen that.  I test the microphones in the room to make sure there are no issues and to set the volume.  I tape all exposed wires down so nobody trips.  I make sure everything looks nice.
I then go out to where your ceremony is going to be and set up a second sound system out there.  I test the wireless lapel microphones to be sure there are no issues.
Next I set up a small cocktail hour sound system if you are having cocktail hour on a patio outside of the main reception room.  If you're keeping count that is three totally separate sound systems to cover three totally separate areas.
I meet with the other vendors you've hired and go over the plan of the day and answer any questions they may have.  I make sure everyone has an Entertainment Schedule that needs it.
Amongst other things I like to find out where the lighting controls are for the house lights so I know where to go to dim them when its time for dancing.
Ceremony: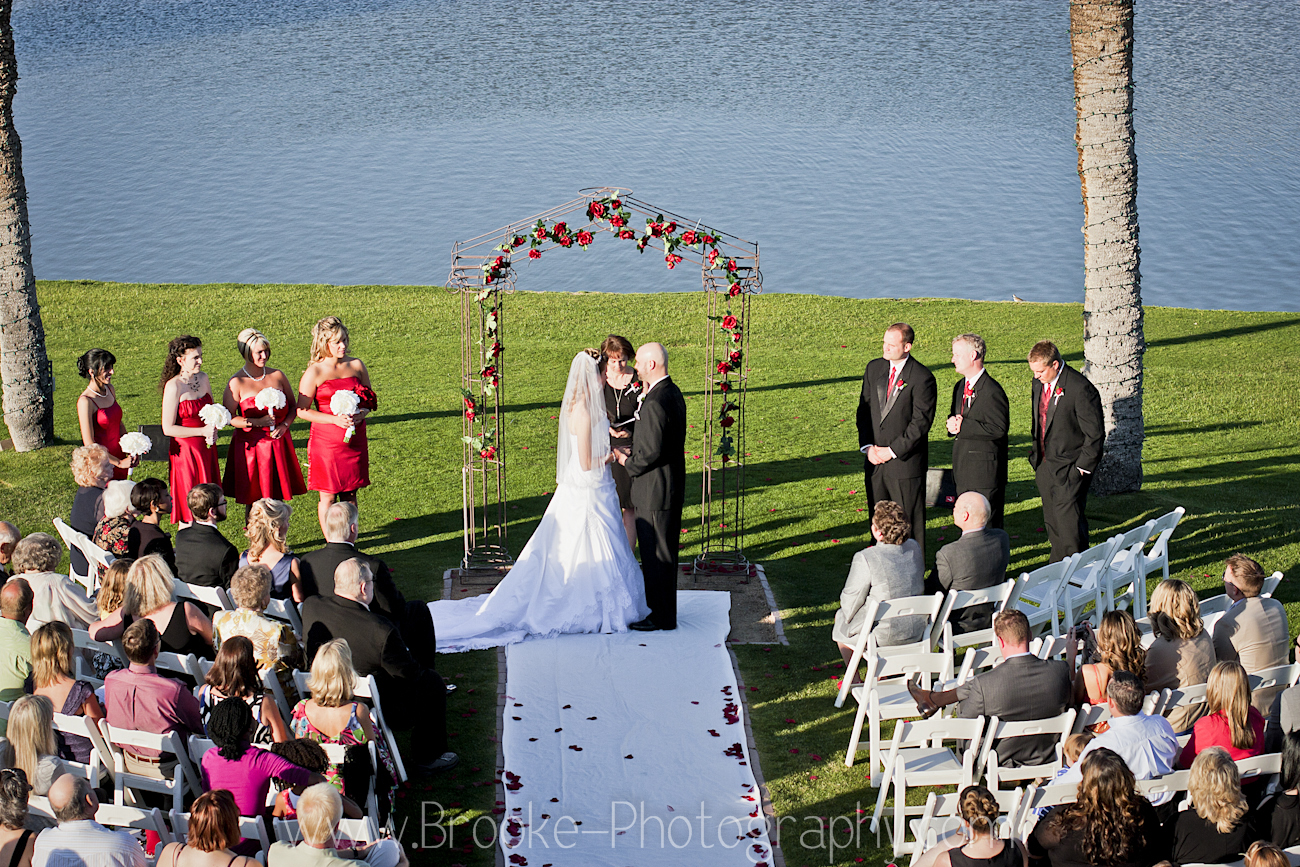 About 15 minutes before your ceremony I begin playing the music you've requested be played as guests are being seated.
I then play the selected music for seating your parents, the bridal party, and finally I play the song that you are going to walk down the aisle to, and there you are!
Once the recessional music has played after you've been announced as husband and wife, I go to where cocktail hour is going to be and get cocktail music going.
I then typically pack up the ceremony sound system.
Cocktail Hour:
I keep the music going and possibly make announcements letting people know where the bar and restrooms are.  I can also announce instructions about seating charts, photo matte's and guest books so that your guests are made aware of what is going on.
Reception:
Once your guests are inside and someone has let me know you all are ready for your Grand Entrance, I come out to where you guys are and make sure everyone is lined up correctly.  I then come back inside, greet your guests and let them know we are about to get underway. Then I start your Grand Entrance music while I introduce everyone into the reception to deafening applause!
I give a wireless microphone to the person who is blessing the food.
I bring up the music for dinner.
All throughout your reception I am typically the most visible and approachable member of your wedding team.  Your guests will approach me with all kinds of comments and questions.  "It's too hot in here."  "Somebody lost a pair of glasses, here."   "It's too cold in here."  "When are we eating?"  "Where's the bathroom?"  I love being your spokesman and representative, and helping your guests with all of these requests is definitely part of my job.
Towards the end of dinner I am checking with the venue staff to be sure that all the champagne has been poured.  I then talk to your Best Man and Maid of Honor and give them a few tips on how to hold the microphone for their toasts and remind them to finish their toast with a phrase like, "Now everyone raise your glass and let's toast the happy couple!"  (You'd be surprised how many times that was forgotten before I started reminding them to finish that way.)  I check with your photographer and make sure they realize we are about to start toasts.  I introduce those giving your toasts using the information you've given me about who they are and what they mean to you.
Now it's time for the First Dance.  I introduce the two of you to the dance floor by telling your story about how we all got here tonight.  The music comes up.  I bring the lights down and turn on a mirror ball effect.  Your guests all say, 'Awwwwwww!" as you dance together for the very first time as husband and wife.
Next I introduce your dad to the floor by telling everyone, through your words, how much he means to you.
Now the Mother/Son dance with an equally fun and/or touching introduction.
We kick off Open Dancing and all of your friends and family rush to the floor to celebrate with you! I kick on the dance floor lighting.  I program a set of music based on your likes, requests, and what the crowd is responding to in an attempt to keep everyone partying all night!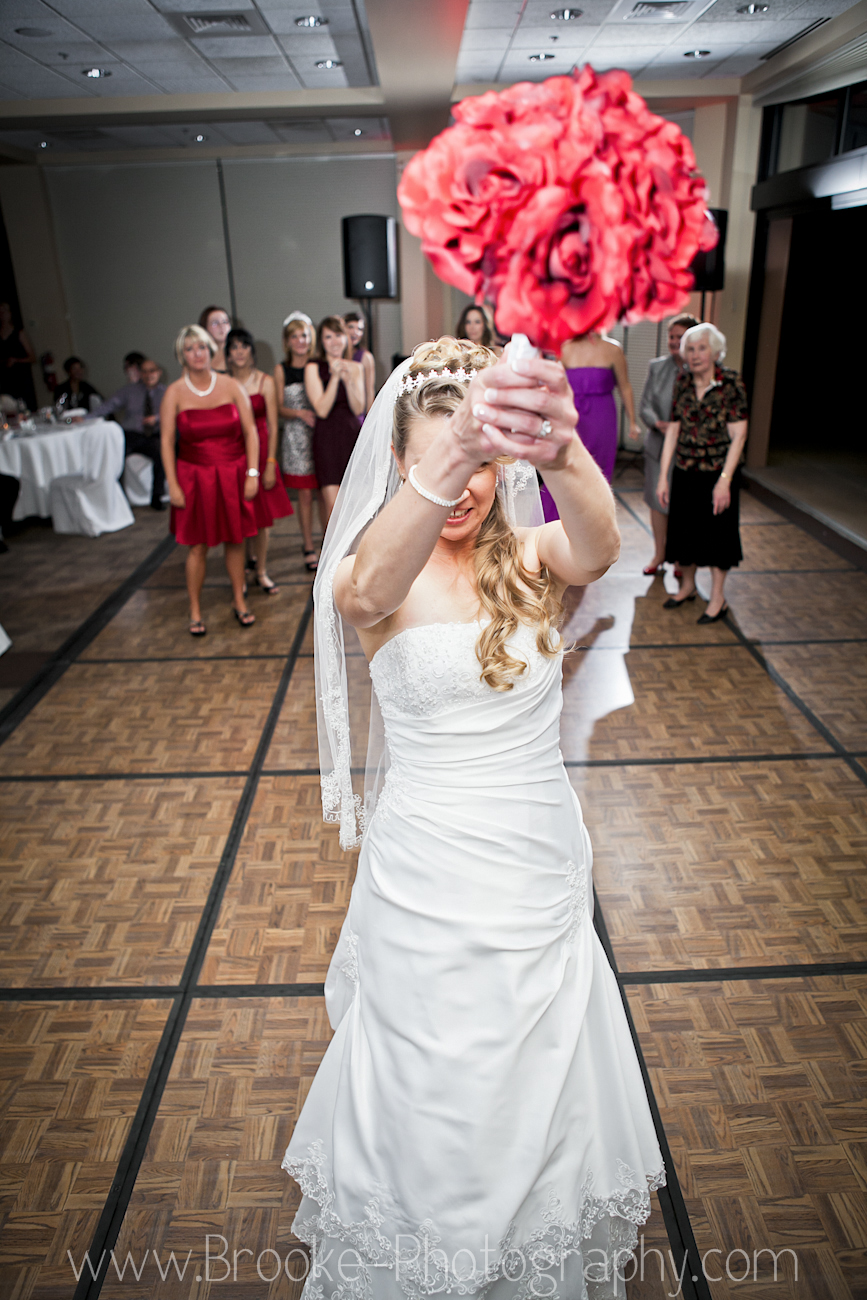 After some dancing we slow things down a bit and do your bouquet toss, garter pull and toss, and the cake cutting.  Before all of this I have verified that you do indeed have the garter on, we know where the toss bouquet is, that the photographer is aware of what we are about to do, and that the utensils and plates needed for the cake cutting are there.
After those formalities are done I continue to program fun dance music to keep you and your guests having a great time.
At the end of the night I play your last dance and help coordinate your Grand Exit.
That's it.  The party is over.
I then spend another hour or so taking all of my equipment down, cleaning up, loading my gear back into my van, and going home.
I'm happy because you guys told me over and over again what a great time you had at your wedding and I take pride in a job well done!
So as you can see, a price quote for 4 hours, isn't really a price quote for 4 hours…..
I look forward to visiting with you and find out how we can work together to plan the elegant, fun, and unique wedding you've always dreamed!
Give me a call or text at (602) 748-8469 or drop me an email at David@DavidHoytEntertainment.com
---
---